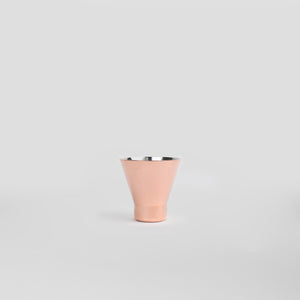 Analogue
CU Goblet Cup (set of 3)
Regular price
LE 3,525.00
LE 0.00
Unit price
per
Tax included.
You will receive a box containing 3 items.
The CU Goblet Cup handmade from copper into sleek, glimmering perfection. It is versatile, refined, and ideal for a lifetime of use in various settings. Because it is made of stainless steel, it resists damage from heat and rust. 
Care Instructions:

Do not expose to heat or use boiling-hot liquids on the item, as the materials used are excellent thermal conductors and will become very hot. The item may also react to the heat and black spots may occur.
Clean with soap and water, using a soft sponge. Dry immediately with a towel to avoid water stains. Do not put in an oven, microwave, or any open fire. Not suitable for dishwasher use. Acidic food may alter the color. Polish every six months, using a specialty copper cleaner. Rub using a soft cloth and rinse well. 
Product Details:

Dimensions: L: 8.3 cm. W: 8.3 cm. H: 8.5 cm.
Material: Copper.
Handmade in Cairo, Egypt.


---